Man and machine working together to create a better future: this idea has fascinated me for some time, as evidenced by a series of sculptures I have made based on this very concept. With a skilled human guiding an advanced artificial intelligence, the ceiling is almost immeasurably higher than by itself.
Czinger is a name I only recently became familiar with, especially the Czinger 21C hypercar. Supercar, hypercar, exotic, high-performance, or whatever you want to call it, the 21C stands apart from any other car of its echelon in its creative process.
And it all starts with a man named Kevin Czinger.
Growing up on cars and bikes with his mechanically-minded brothers gave him the hands-on, blue-collar experience that top engineers and designers typically have. The man even played football at Yale University in the 80s, setting single-season school records and career sack totals. He was named an All-Ivy League and won conference MVP as a defensive lineman while leading Yale to back-to-back conference titles. He had a competitive fire and an extreme work ethic from an early age.
Then there is his post-Yale career. Here's how a Yale alumni profile describes Czinger:
"Czinger's professional journey…has taken a winding path: federal prosecutor, executive at Goldman Sachs, entrepreneur-in-residence at a venture capital firm, co-founder of an electric car and battery manufacturing company."
These accolades don't even include his time in the Marines; his latest adventure, Divergent; or his second automaker Czinger. The last two are why I write about him now.
So what is Divergent and what does it do? The company's website sums it up best:
"Divergent has invented a complete manufacturing solution to address system-level challenges. The Divergent Adaptive Production System (DAPS) is a comprehensive software hardware solution designed to replace traditional vehicle manufacturing. To simplify the complex, it is a complete modular digital factory for complex structures. Given a set of numerical input requirements, the machine automatically designs, manufactures and additively assembles any complex structure. The system is able to move seamlessly between manufacturing different vehicle models. »
Simply put, Czinger has developed a program to design and manufacture the strongest and most efficient assemblies within the parameters. With 3D printing, there are no restrictions on how a part is shaped, while stamping or welding a part can limit what is possible in design, materials and manufacturing . There are also wasted materials, wasted effort and extra weight. With Divergent, engineers help AI design the ideal parts, the ideal sub-assembly, and ultimately the ideal car.
"It has become clear that what they are working on has implications far beyond an ultra-high performance car. Rather, their goal is nothing less than to revolutionize the way vehicles across the spectrum are designed and manufactured," said Alex Leanse of Motortrend.com.
While attending The Quail, a motorsports show in Monterey, Calif., last August, I saw all three Czinger models up close: the 21C, 21C V Max and Hyper GT. Czinger explained how he modeled his company on Lockheed's Skunk Works team, and it's clear that the inspiration for the plane didn't stop with the structuring of the workforce.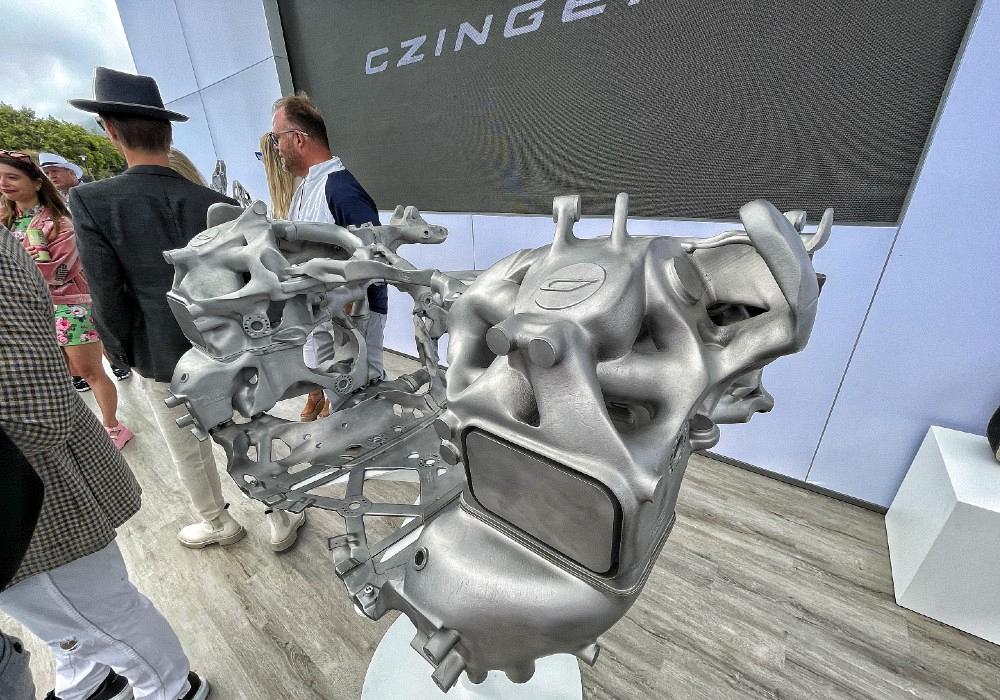 The interior layout of the 21C is directly inspired by a fighter jet with in-line seats for the driver and a passenger. Unlike many low-volume high-performance cars that borrow transmissions from other manufacturers, the 21C features a high-revving small-displacement twin-turbo V8, along with a developed twin-electric motor hybrid system. internally. With carbon fiber and exotic alloys, all 3D printed and tuned to perfection, it's hard to look away from these masterpieces.
While the flashy trio of these seven-figure cars grab initial attention, the manufacturing process deserves even more. And you better believe that this new way of building cars can be extended. Divergent is now under contract with Aston Martin to generate assemblies.
And bringing that kind of manufacturing to the masses seems to be Czinger's larger goal, as he explains in the Yale alumni profile.
"We had a revolution in software: with a small team and goal-oriented software, we can code anything. We will now have a hardware revolution that will combine our ability to use software for generative design with the ability to express that design in the real world of atoms by printing it. Our planet will not survive without this revolution in manufacturing, because our current vehicle manufacturing system is economically and environmentally failing.




Electric vehicles are a good example. We believe that we can build a big heavy vehicle that requires large amounts of energy to operate and is environmentally friendly because it is electric and there is no exhaust pipe! It's crazy. The two are fundamentally, mutually exclusive.




As the developing world increases its demand for vehicles, we are about to lock ourselves into infrastructure that will increase environmental damage to unimaginable levels. It took us 115 years to build two billion vehicles. Over the next thirty-five years or so, we will build an additional four billion vehicles (six billion in mass equivalent) with all the associated infrastructure that increases damage and fuel consumption (gas and/or electricity). We need a way of manufacturing that is much more efficient in capital, materials and energy than in the last hundred years. We need vehicles that are safe, light and consume less fuel (petrol and/or electricity).



Czinger uses a 120-year-old automotive playbook to drive change and drive the industry forward: Draw attention to your methods and technology by creating a ridiculous, over-the-top show, then sell decision-makers and financiers on your process .
Time will tell if it works. But my bet is on Kevin Czinger.